Cheap Cheap Games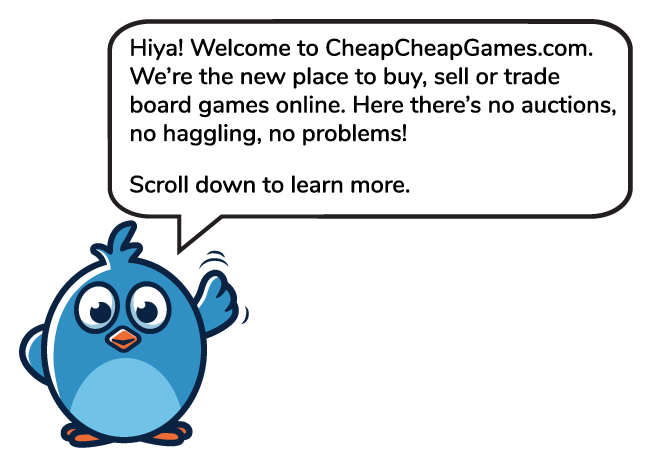 Buy
We carry hundreds of titles of titles of board games and accessories. From new releases to all-time classics we carry it all. Save up to 65% off retail prices. $5.99 flat rate shipping on all orders. Orders over $100 receive free economy shipping or upgrade to two day for only $3.99! All of our games are guaranteed for completeness and condition. We ship 7 days a week and even deliver on the weekend. If you have any questions or need help with your store order please contact us here.
Sell
Old games collecting dust? Victim of Bought too Many Games syndrome? We can help! Currently, we are looking for over 2000 board game and RPG titles. Now buying Xbox One, PS4 and Switch games and consoles. Simply head on over to our buylist, add your unwanted games to cart and see how much cash you can get. Once your order has been received and graded your payout will be instantly sent to you PayPal account.
Trade
Looking for a new game to play? Trade in your old ones! When you trade in your games for store credit you receive a 30% BONUS. Your store credit can be used on new games, used games, pre-orders, or anything else in store! Just choose Store Credit at checkout. Click the "Sell Your Games" link at the top or here to get started.
From our customers
"By far the fastest and most professional board game trading experience I've ever had with a store. The online process was so intuitive. Definitely my go-to trading store now." - Kara A.
"My board game collection was starting to spiral out of control. This service was an excellent way for me to trade in the games my group had outgrown. The guys at Cheap Cheap Games were great. I would definitely do it again." - Will L.
"CheapCheapGames (CCG) is a legitimate online board game retailer offering a very useful service. I was very happy with my selling and especially buying experience." - Kurt B.